Pronto is an Ecosystem management platform that enables organizations to seamlessly manage and collaborate with their B2B/partner relationships. To ensure that Pronto's customers are set for success, Pronto provides a quick access dashboard for each relationship using which you can clearly understand the performance of each partner relationship you are building.
This article outlines a series of steps to do the following:
View information/help text associated with each metric
Download data
View/Hide information presented in a tabular format.


To access the Relationship Performance Dashboard, select the relationship in your Ecosystem page.




You will be navigated to the Dashboard page of the relationship.




For all metrics, you will notice a "?" icon next to the metric name. Hover over the "?" icon to get additional information on the metric. The additional information outlines how the metric is helpful and the formula Pronto uses to derive the metric.


This article breaks down all the available reports and the information you'll find in each section. Let's go through each section in detail to understand.
The top section on the Dashboard page displays the following information

Relationship current stage
Executive Sponsors for this relationship
Avg. open pipeline of Opportunities in Sales
Avg. closed won for Opportunities
Win rate
Number of members associated with the relationship
The next section displays the Target vs. Actual performance.
You can download data and graphs for some metrics from the dashboard. Wherever applicable, you will notice a More actions icon (indicated by three vertical dots) on the top right of the metrics card as shown below.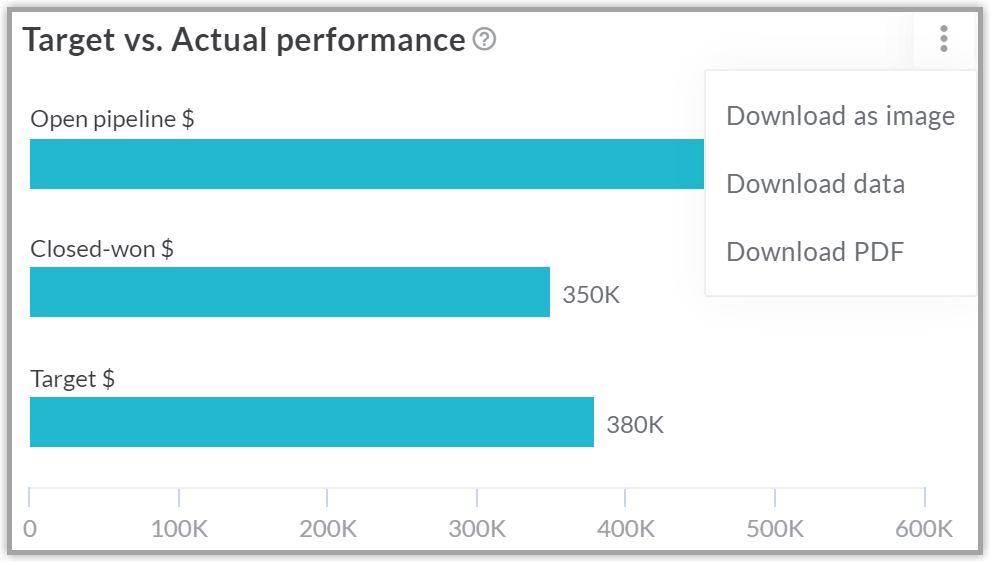 Click on the relevant option and download the data/images. Images will be downloaded in .png format and Data will be downloaded in a .csv format.
The next section displays the Strategic objectives defined in the Planning menu.




The next section of the Dashboard page talks about the Closed-won Opportunities segregated by Company. If you would like to download the data, you can click on the More actions menu and download.




The next section shows the Solutions by Stages. If you would like to download the data, you can click on the More actions menu and click download.




The next section of the dashboard shows the Closed-won by Industry




The next section displays the Opportunities deal size in closed-won stage for opportunities in closed-won by the Lead company and opportunities in closed-won by other companies in this relationship.




The next section displays the Opportunities in closed-won stage segmented by Industry.




The next section displays the Opportunities in closed-won stage segmented by Product.




The next section displays the Top 5 opportunities in the sales pipeline

Tables presented in the dashboard will have the ability to show/hide specific columns in the dashboard. To show/hide columns in the table, click on the Column icon next to the More actions icon and select/deselect the columns you wish to see/hide.




The next section displays the Total sales pipeline of all opportunities segmented by opportunity stages




The next section displays the Total sales pipeline of all opportunities segmented by stage and company




The next section displays the Total count of New, Common and Distinct accounts




The next section displays the Total count of accounts by industries